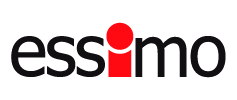 Essimo was established in 2000 and the head office is in Den Helder, The Netherlands. Essimo is a family business and the quality of our products is essential.
The Essimo brand is growing throughout Europe as judo clubs, coaches, parents and judoka have become aware that Essimo offers 'top quality for a low price.'
The Essimo judo range is designed by Patrick van Kalken. As a former European champion, Patrick knows what the demands are for designing a perfect judo suit. No long dresses or short sleeves, but a suit that meets the highest standards in judo. Extra strong where it is needed.
Of course comfort is a very important issue. The Essimo children suits are made of the best, finest and strongest cotton for extra comfort. The competition suit 'Ippon' is completely brushed to prevent sore skin. Essimo judo suits are designed with care and therefore Essimo guarantees best quality and prices.
Essimo now offers a range of products throughout the Oceania region via their exclusive distributor located on the Central Coast of NSW. Essimo Oceania is also a family business operated by Shane Alvisio who has been registered and contributing to judo as a player, club coach and volunteer administrator for almost 40 years. Shane was a member of the Australian Judo Squad between 1983 and 1994 and during this time Shane was a 10 x medalist at Australian & Oceania Championships. Shane is very aware of what is required in a top quality judogi that is manufactured well, comfortable to wear, and reasonably priced. Essimo Oceania will continue to offer European top quality judo suits at a low price.
The Essimo range includes 9 models of judo suits. These judo suits are designed for mons (under-10 years), beginners, advanced, local & international competition judoka.